Brought to you by our TritonEats Bloggers
Canyon Vista Marketplace: It's ALL Halal!
By Michelle Mkhlian and Savannah Tapia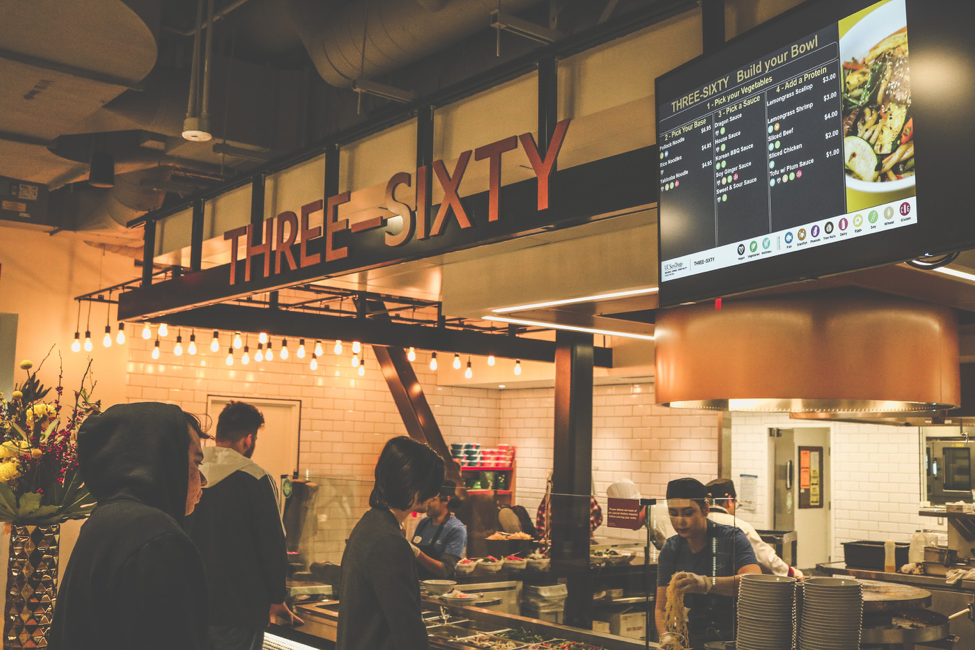 There is so much to rave about when it comes to the newly revamped Canyon Vista Marketplace, but possibly the most exciting is that EVERYTHING, from Three-Sixty to Fusion Grill and the juice bar is 100% halal!
What does halal mean? Halal is the dietary standard set forth in the Qur'an, the Muslim holy scripture. It is an Arabic word that translates into "permissible" or "lawful". In contrast, haram means "unlawful" or "prohibited". In terms of food, this means that things are halal if they are 1) Free from any component that Muslims are prohibited from consuming according to Islamic law; and 2) Processed, made, produced, manufactured, and/or stored using utensils, equipment, and/or machinery that have been cleansed according to Islamic law. Some items that are included in the list of haram foods or ingredients include lard, gelatine, pork, or bacon.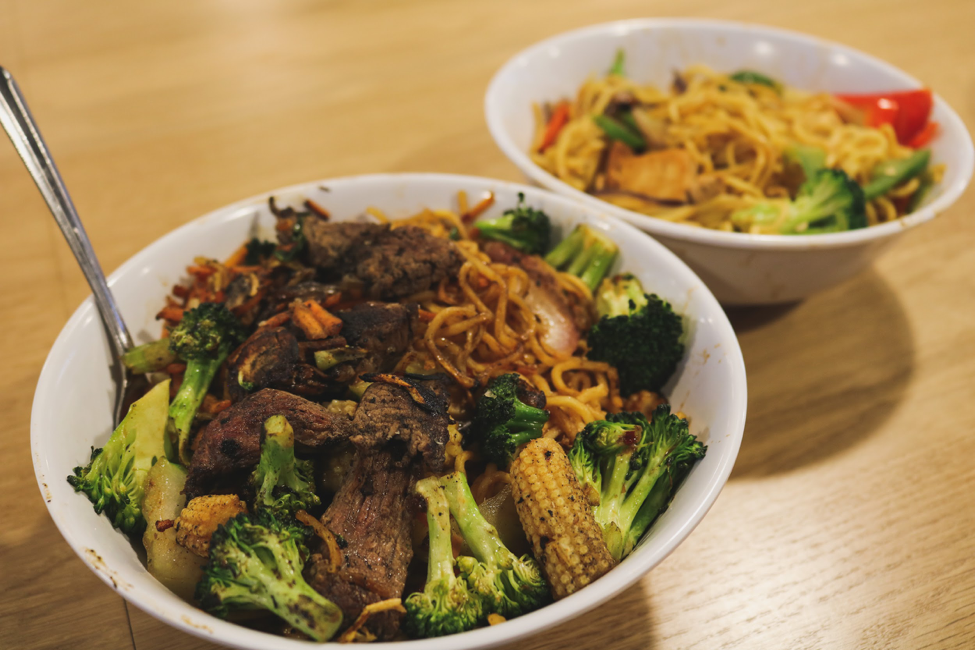 UC San Diego is one of only two campuses in the United States that have achieved this esteemed halal certification. We are happy to share that we are one step closer to having a more inclusive campus that serves a vast array of diets, cultures and needs for our diverse student body.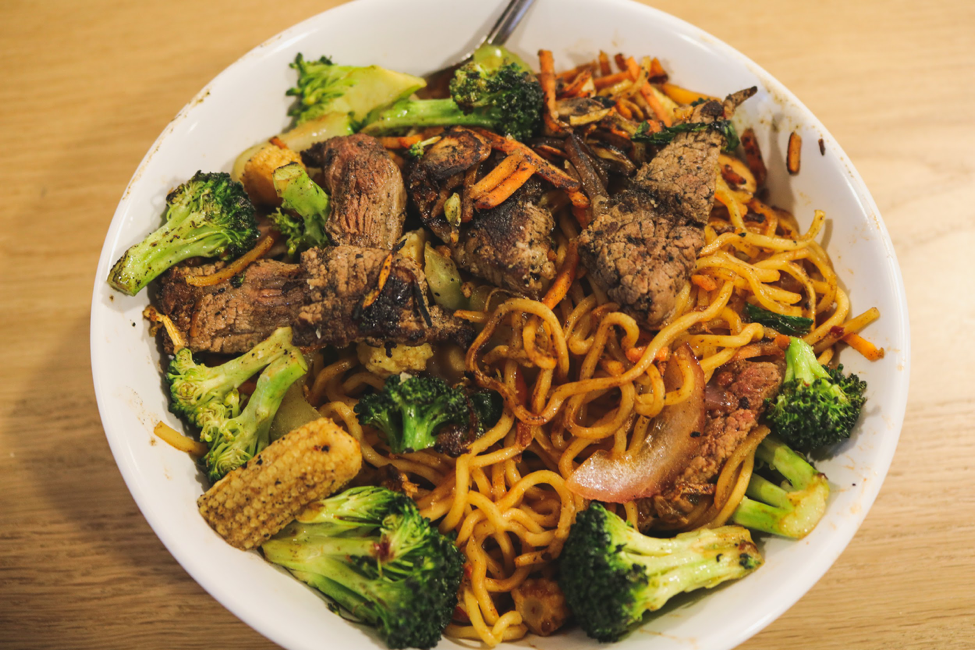 During our latest visit to Canyon Vista Marketplace, we tried the menu at the Three-Sixty stir-fry platform!
Michelle:
I ordered: Yakisoba noodles, Korean BBQ sauce, sliced beef with broccoli, onions, baby corn, carrots, mushrooms and celery. I am a huge fan of noodles so I was really excited to finally taste this. If you're a fan of spice, I'd recommend trying out a different sauce as the Korean BBQ was on the sweeter side. Luckily, the customization gives you plenty of choices to suit your palate. Overall, I feel like this dish was satisfying and pretty filling. I'd love to try it again with different veggies and sauce.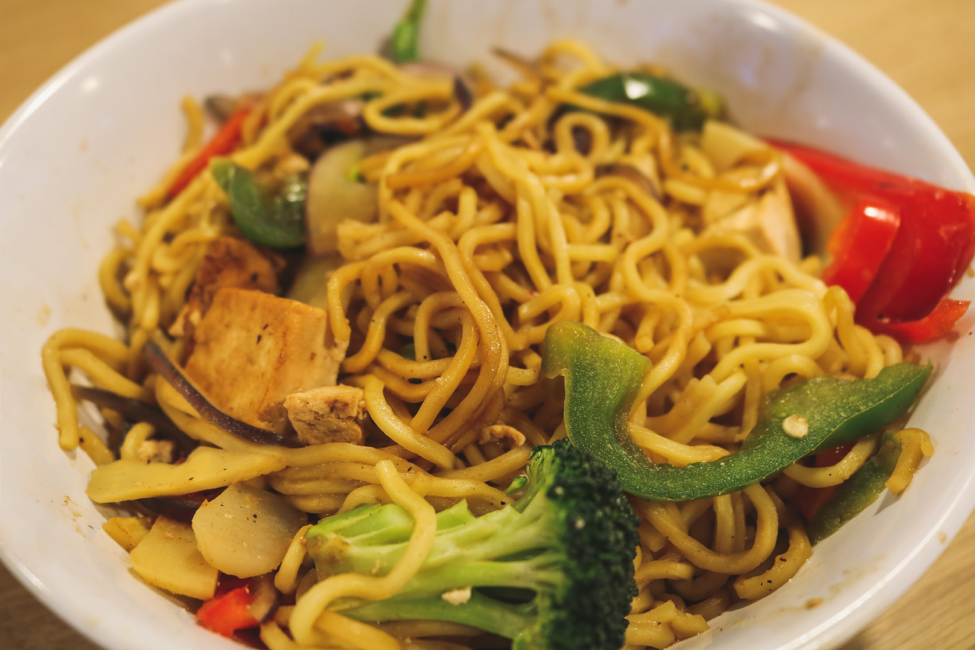 Savvy:
I ordered yakisoba noodles with tofu for protein. For veggies, I opted for bell peppers, broccoli, bamboo shoots and onions. I was so pleased to see so many options in the veggie department! The bamboo shoots were my absolute favorite part of the entire meal. Tip for my spicy food lovers: Ask for some dragon sauce on the side to spice up your dish!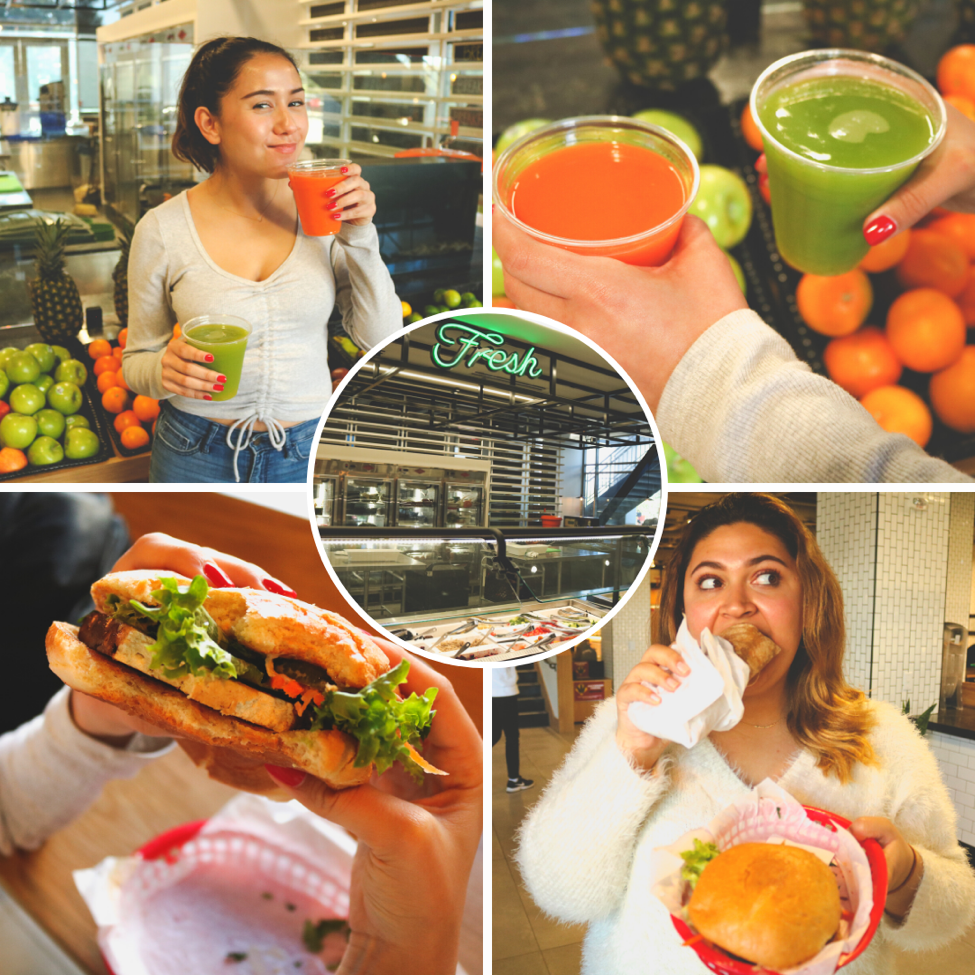 There are many options at Canyon Vista Marketplace for students to explore. Another item we tried was the tofu banh mi burger. I asked for the vegan bun to make it vegan, and I have to say that it was delicious! In the past, I have had many vegan buns that taste like cardboard; this one was fluffy, tasty and warm. This meal was filling and incorporated protein and veggies. I had no idea our campus had a Vietnamese-inspired sandwich like this.The juices at the Fresh Bar are definitely a great addition to campus as well. Our personal favorite was the carrot-orange combination, but there are plenty to play around with and try!
Overall, we were blown away by the new options at Canyon Vista Marketplace. It has vegetarian, vegan, gluten-free, health conscious AND halal options all in one place!